"PONTYSLOT" a History
Although the name of the club "Pontyslot" suggests that it is a slot car racing club based in Pontefract … the home of the famous Pontefract Cakes and latterly the home for two Haribo factories, I'm sure no one had heard of the village, unless you're old enough to remember Ackworth Transport or perhaps attended Ackworth Quaker School but the nearest large town is Pontefract. However the first hand built wooden slot racing track of the current generation in this area was built in Wakefield.
Around 1982, there was a new track built at Wakefield in a non-operational BT building, Ian Prout a BT employee saw an opportunity to use the first floor of an old British Relay building now owned by BT. A three storey building of which we gained use of the first floor and after knocking down several internal walls the Wakefield track was built.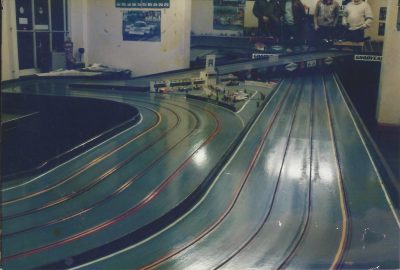 The track was active until about 1990 when BT sold the building, the track was eventually taken to Newcastle circa 1992.
As a club we then went into hibernation although we did build a two lane track in one of our members spare bedrooms! It didn't last long, no room for marshals and spectators had to stand outside and look through the window … it was on the ground floor!
In circa 1994 we found premises in Ackworth above a joiners workshop and  a children clothes shop, later to become a ladies underwear shop and lastly a florists/wedding organizer.
The first track we used was the old Leeds track which had been in a Leeds boys' club which had closed. A four lane, copper tapped black track. It served its purpose until May 2002 when the room needed an urgent refurbishment as we were in danger of falling through the floor, woodworm was ravaging the place.
Our last race night was on Monday 20th May 2002 and we'd decided to build a completely new track. At our own expense we refurbished the whole room, new joists, new floor, panelled the walls (old stone distempered walls made a mess of your clothes when you lent on them), installed a lowered ceiling, "new" kitchen area and all new electrics. We managed to gain about another 8 feet of floor length to enable the new track to be around 136 feet.
Ten months later after many hours of graft, the new track was completed and we held our first club night in late February 2003 followed by the first Area Round on 13th April 2003.
The premises are owned by a local joiner who had said from the outset (1994) that we can use it but it was his "pension" and eventually he was going to make "it pay"! Well that time arrived and gave us notice to vacate the premises early in 2020 … not bad for a temporary home, 25 years! It's now been rebuilt and hosts a barbers, pilates class and beauty salon!
Very luckily we found our new premises just 300 yards away, another ex-joiners workshop/shop. We moved in on 1st October 2020, the owner had retired but a local lad has bought it as an investment and agreed to rent us the first floor. A more modern structure but big enough to fit the old track in without any modifications to the track although we've had to slightly modify the premises. We have spent many hours improving the room with insulation and decoration whilst rebuilding the track. We came across one major headache, as the building was metal clad we insulated and boarded the walls but on a frosty night we had major condensation issues from the roof. We have overcome the "tropical forest" like rainfall when the frost melts but I'm sure there will be still further work to do once we get back into winter months. The room and track were eventually completed (and tested) on 10th May 2021 after many hours of hard work by several club members whilst paying heed to Covid restrictions.